Why Businesses Need a Website?
Today, websites are important, especially for small businesses. Regardless of your profession or business, a website can help you grow your business, promote your marketing message, and develop goodwill. In this guide, we are going to talk about the importance of having a small business website, the time it takes to build one as well as the cost of the project. Let's go ahead and discuss each point.
Nowadays, most people use the internet to look for their desired products or services and place their orders online. Even if you run a small business, the chances are that people may have looked for your website online.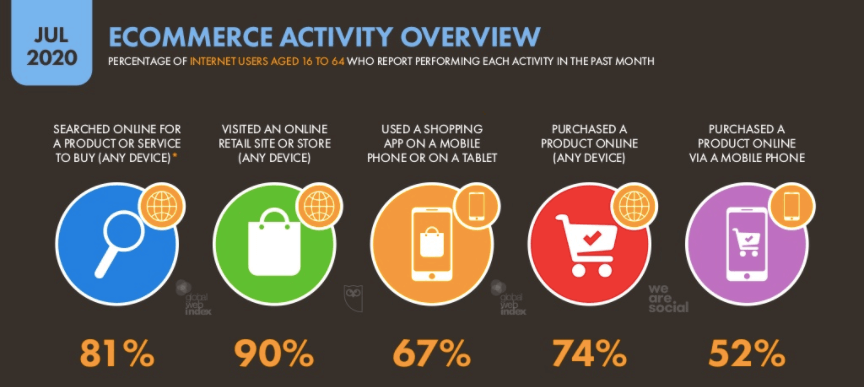 image source: smartinsights.com
What is the importance of a small business website?
Having a well-designed website is important for your small business for a number of reasons. Given below are 5 reasons why web design is of paramount importance:
It creates a great first impression
It helps with search engine optimization
It helps businesses offer 24/7 customer service
It helps build trust with your clients or customers
It helps you stay ahead of the competition
It helps create consistency
How Long Does It Take to Build a Small Business Website?
If you are thinking of building a website, you may be wondering how long the process will take. First of all, it's hard to estimate the time it takes to design a website for your small business. Typically, building a website from scratch takes the most time. Depending upon your requirements, it may take from a few weeks to months.
Here is what the process looks like:
You communicate your needs to your web developer
You choose from a few good designs and let your developer know about your choice
The web design and development process begins and the developer keeps in touch with you
Finally, the web design review happens, which allows you to have your desired changes made to the web design
How long does web design take? (The 4 Basic Steps)
Assuming that you want to hire a website design agency or freelance developer to build a small business website for you, we have given the details below that will help you get a better idea of the project completion time. Without further ado, let's talk about the 4 steps.
Step 1: Consider Your Needs and develop a Plan ( may take 1to 2 Weeks)
Preparation is half the battle. In other words, you should have a clear idea of what your site should look like, and you should communicate your ideas to your developer. Remember: talking to your developer is a great idea as they will give you a much deeper insight into the world of web design.
Your web developer will tell you about a lot of features that your web design should have. For instance, if a feature can make your website more user-friendly, they will suggest that the feature should be added to your site.
Therefore, you should sit with your developer and create a solid plan for your website design. And you must always listen to what they say.
Step 2: Get Started on the Website Design (May take 1 to 3 Weeks)
After you have put together a plan of action, your next move is to get started on the project. The first part of this process is to take a look at some web design templates. They will help you decide on what each web page of your site should include, such as images, content, videos, layout, and so on.
During this stage, the agency or developer will give a shape to your site, which may take up to three weeks. Therefore, it's important that you take part in this process. You should ask questions and request necessary changes.
Step 3: The Actual Development Stage (May take 1 to 2 Months)
This stage involves all the magic work. The development team will get the required information from you and give you a fully developed small business website. This site will look exactly like the template you saw in the first stage with the additional customizations you requested.
This process may take a while as you may require some changes to be made to the design. In short, this stage may take a minimum of 30 days until you see a fully ready website.
Typically, agencies will ask for more time than they really need to complete the project. This gives them some breathing room to deal with any problems during the process. Mostly, no major problems occur and the project is completed before the deadline.
Step 4: The Final Review (May take 1 to 2 Weeks)
Before your small business website is launched, it goes through a final stage of review. In this process, you and your developer take a closer look at every part of the site to ensure it looks and works as planned. Each part of the site should be designed based on the plant of action prepared during the first stage of the process.
Generally, this is always room for improvement. At times, minor corrections are made to the design to ensure to make it look flawless. And this is not something that you should worry about. In fact, some minor bugs are always expected during the web design process.
Typically, most big issues are identified and fixed during the first stages of the process. Afterward, only a few minor bugs are fixed. So, this process may take between one to two weeks to complete.
How can you Build a Website Quickly?
If you want to build a website in a few hours or days, you can opt for a simpler design. For a simple website, you don't need to pay for the services of a web developer. Instead, you can use some free tools for designing simple websites even if you have no experience in the field. These tools are known as website builders. You can choose from a lot of simple tools.
The function of a website builder is to make the process much easier for beginners. They have some handy features like tools and themes that can simplify the entire process.
The Time It Takes
Even if you want to design a very basic small business website, know that it may still take plenty of time, especially if you are a beginner and want to do it for the first time. Nowadays, the majority of sites offer a lot of advanced functions. Therefore, they add to the development time. Apart from this, you should consider your budget and time before getting started.
Generally, you should know that the project may take up to 4 months if you sign a contract with a professional agency. On the other hand, if you go with a website builder, expect the job to be done fairly quickly.
How much does a website cost?
If you want to create a website, you need three things: a domain name, a web hosting account, and a plan. And all of these things will cost you, which may vary based on your needs. The cost can be a few dollars to hundreds of thousands of dollars.
A simple approach is to opt for an all-in-one package. Typically, they cost a fixed annual or monthly subscription fee and may include all of the three elements. Apart from this, they may include a web development tool or website design training to help you make changes to your site.
Regardless of your approach, it's important that you set your budget for development and regular maintenance. The cost will continue to grow as your business grows and develops.
If you have a small business website, the simplest approach is to opt for an all-in-one package that should include the domain name, hosting, and web building tools.
As far as the least expensive option is concerned, nothing can beat a DIY website development tool. The great thing about these tools is that they are template-based and quite easy to use. Plus, they don't need any coding experience or technical skills.
The majority of DIY builders come with different pricing plans. Some of them are free while others may cost a few hundred bucks per year. The elements that may have an impact on the price may include the theme types, bandwidth, processing power, and disk space, just to name a few.
If you don't want to build a website yourself, you can hire the services of a good web developer. The service charges of these developers may vary based on their experience, expertise, and the type of job assigned to them. Generally, the cost of a simple website can be between $750 and $2,500.
In Conclusion
If you have decided on working with a professional, we suggest that you know what you are going to get. Do your homework and don't forget to ask questions. Before you finalize your decision, make sure you know what your website should look like and how it will function. Aside from this, do consider how much time you can give for the development and management of your site. It's better that you outsource the project and focus on another important aspect of your business.
Long story short, we hope that the guide will help you set a budget and design a website that can meet your business needs.